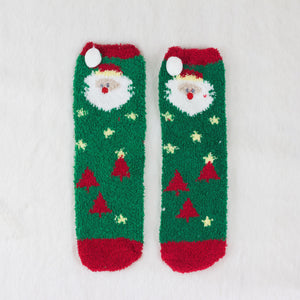 Description
Green – LD332

Holly Jolly
Get into the holiday spirit with our limited edition Christmas socks! Impress your friends and family with a pair of these at this year's party. Have your feet stay warm and cozy on those chilly nights while you are curling up on the couch. Browse our sock collection filled with beautiful pastel colors and patterns. They say your favorite color tells a lot about you. Let your socks do the talking.

- Fuzzy Socks
- Super soft and comfy
- Crew
- Single pack
- One size fit all
Wash & Care
Treat Your Delicates Like Delicates
Machine washing in cold water and hanging to dry is our preferred way of taking care of your garment – by doing this, you'll best preserve the lifespan of the garment, and you'll be leaving less of an impact on the planet. If you can't get around throwing your clothes in the dryer, just keep in mind that all-natural fibres, without chemical treatment, are prone to shrinkage — ours will shrink between 3-5%.